Sgt. Paul Sasse arrived at Fort Carson in February in a uniform glistening with decorations from three combat tours: five medals for heroism, four for excellence, three for good conduct and one for nearly getting killed in Iraq. The 32-year-old Special Forces soldier also wore shackles. He was facing court-martial for assaulting his wife and two military police officers. Sasse had been sitting in solitary confinement at the El Paso County jail for months without military charge and had been brought to the Colorado Springs Army post to be arraigned. "I just need someone to help me," he said, reaching with bound hands to show a Gazette reporter his medical files.
Sasse was hit by a roadside bomb in 2007 in Iraq and diagnosed with a traumatic brain injury. He kept soldiering through another tour even though he struggled with shattered memory and concentration, depression, nightmares and rage.
In 2012, the Army diagnosed him with post-traumatic stress disorder. Doctors gave him a mix of contraindicated drugs that made him manic. A few weeks later, he slammed his wife's head against their Jeep until she was covered in blood then turned on the military police who tried to stop him. He had been scheduled to go into a special unit for wounded soldiers. Instead, the Army put him in jail.
In the El Paso County jail, Sasse picked up three more assault charges for assaulting guards. He ended up in solitary. He sat there for almost nine months, growing a long, bushy beard and developing, an Army doctor wrote in January, "severe psychiatric disease."
"Given his condition, his confinement is tantamount to cruel and unusual punishment," Fort Carson's top defense attorney said in a letter to Fort Carson's commander in September, asking the general to send Sasse to a psychiatric hospital.
Still, the Army left him in solitary.
His family pleaded to the commander and their hometown senator to intervene to no avail.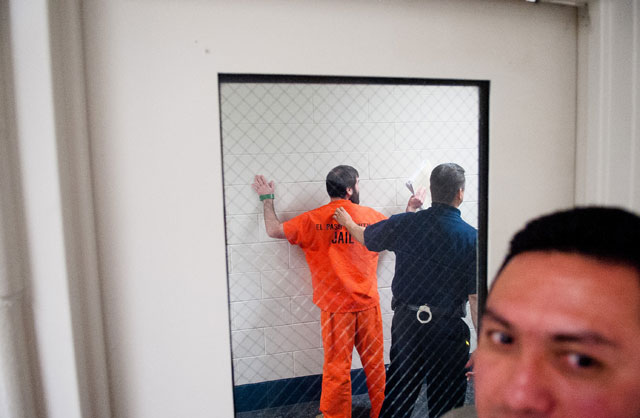 Special Forces Sgt. Paul Sasse gets patted down before going back to solitary confinement Jan. 23 at the El Paso County jail. The wounded Army veteran had been in jail without military charge since July in connection with beating his wife and assaulting military police.
Michael Ciaglo / The Gazette
If convicted and thrown out of the Army, Sasse had a plan: go to the Capitol in Washington, D.C., lay his thick stack of medical records on the steps then set himself on fire.
"It's the only way I can get anyone to listen," he said as deputies took him away.
Wounds cause misconduct
At the end of the longest period of war in American history, no one knows how many troops like Sasse are suffering from invisible injuries through one deployment after another, ready to break. Of the 2.5 million troops who have deployed for the Iraq and Afghanistan wars since 2001, more than 400,000 have deployed three times or more. Each time, they are more likely to develop TBI, PTSD and other psychological problems, Department of Defense studies show.
Repeated studies also show these invisible injuries dramatically increase the likelihood that troops will act out and be kicked out with no benefits. Often, the wounds take years to develop, which means the country will be dealing with the wounded long after the wars are done.
This week, a Gazette investigation has shown that the number of soldiers discharged Army-wide for misconduct has increased every year since 2006 and is up more than 60 percent in that time, according to records obtained through the Freedom of Information Act. The 76,000 soldiers kicked out since 2006 include an unknown number who have PTSD or TBI. Even soldiers with obvious physical wounds are not protected from quick discharge for breaking the rules. Neither are soldiers like Sasse, who have considerable combat exposure and long records of meritorious service.
"It's despicable," said retired Special Forces Staff Sgt. Jason Inman, who shared a Humvee in Iraq with Sasse. "Guys get in trouble and the Army makes it look like the soldier's fault and kicks them out when it's the Army that made them this way."
When injured soldiers commit crimes, the Army rarely offers mercy, records show. PTSD is not an effective defense, Army defense attorneys say, and the majority of wounded soldiers who commit crimes are stripped of medical care and other benefits for life and thrown out of the Army.
In February, Sasse's friends and family feared he would go off the deep end if put out with no health care.
Sgt. Paul Sasse
Three-tour veteran says Army gave up on him after PTSD got bad.
"Locking Paul up just made him worse," his mother, Sarah Ingram, said. "He is wounded. He needs help. And the Army wants to throw him out with no care. I'm almost sure he would kill himself. He might hurt others, too."
What Sasse really needed, she said, is treatment in a secure medical facility. The Army has its own locked psychiatric hospitals and contracts with others, but it refused to transfer Sasse. Commanders at Fort Carson maintained that he was too dangerous. He needed to be prosecuted.
At the same time, the Army was offering him a deal: agree to quit the Army and get out of jail with no supervision.
The process is known as a Chapter 10 discharge — resignation in lieu of prosecution. It is almost always accompanied by an other-than-honorable discharge that bars soldiers from medical benefits.
"He is too dangerous, but then they turn around and offer to put him out on the street?" said Georg-Andreas Pogány, a veterans advocate who has been trying to help Sasse for months. "It's more than insane."
Sasse is not the only soldier at Fort Carson jailed then encouraged to resign with no benefits to avoid prosecution. More than 440 soldiers have resigned in lieu of court-martial through Chapter 10 at Fort Carson since 2006, Army records show. Many of them committed crimes and were not injured, but internal Army emails show that some were specifically targeted because Chapter 10 circumvents safeguards for wounded soldiers.
An additional 13,000 resigned under Chapter 10 Army-wide in that time. The Army didn't respond to requests for information showing how many, like Sasse, struggled with wounds from combat. A spokesman said the Army does not track that data.
"We may not get it right 100 percent of the time but we work hard to identify at-risk troops in time for intervention," said Gen. Martin Dempsey, chairman of the Joint Chiefs of Staff.
The Army has made strides to improve detection and care for invisible combat injuries but has not changed decades-old regulations directing what to do when those soldiers break the rules, critics say.
"I don't think the Army knows how to treat this stuff yet," Sasse's former commander, Lt. Col. Matthew Nilson, told an Army court in March. "All these cases we see, they are injuries. When you hurt your leg, you don't get in trouble for that. We don't treat these injuries. It's a tragedy."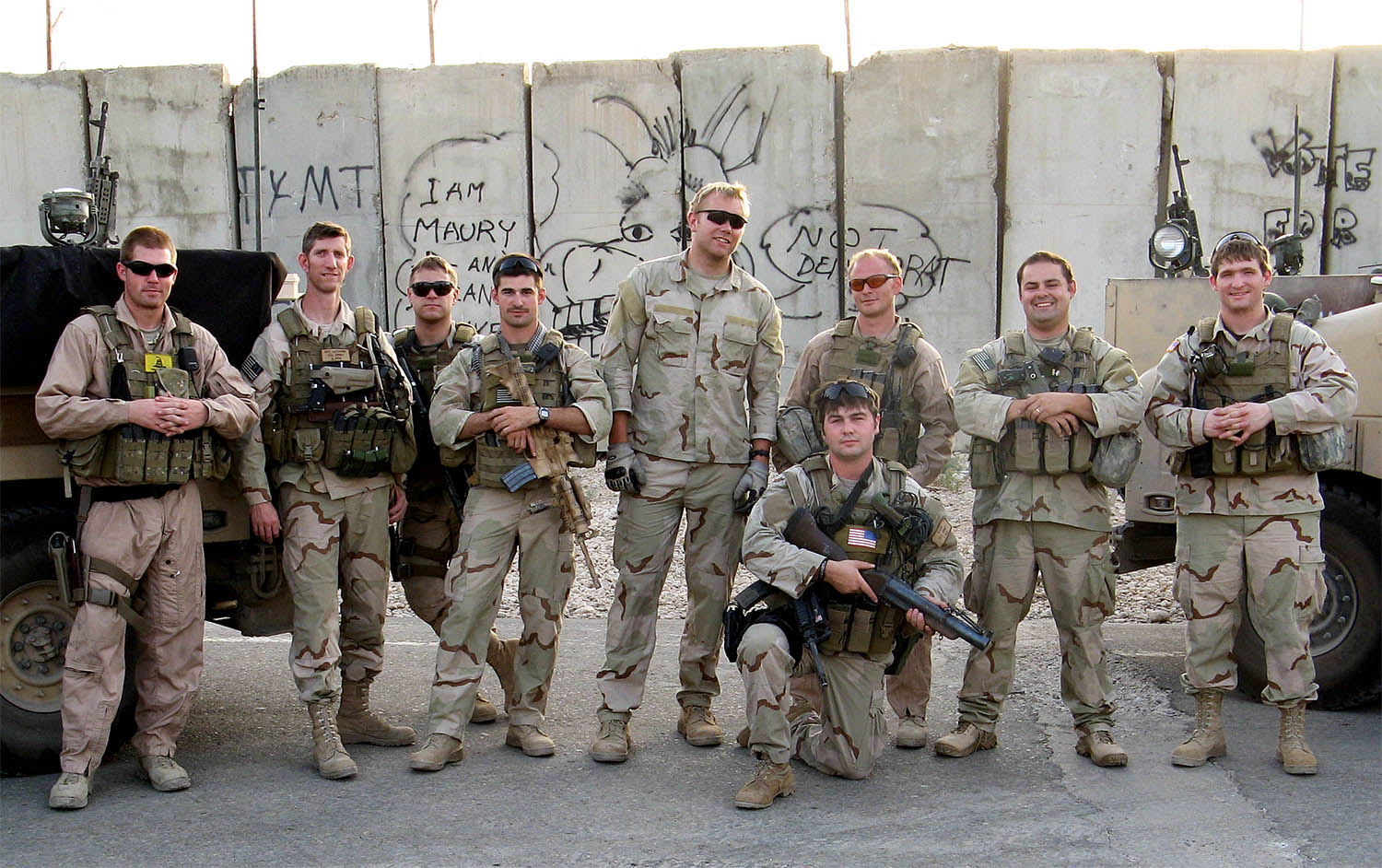 Above: Sgt. Paul Sasse, kneeling, poses with other Special Forces soldiers in Iraq in 2007.
Courtesy Jason Inman
The Triangle of Death
Sasse grew up in a military family and joined the Army in 1999 when he was 19.
"My mom told me I always wanted to be a soldier, but to be honest, I don't recall why I joined or much else from before the blast," Sasse said in an interview in January in jail.
Wearing an orange felon jumpsuit, Sasse, who spoke in a rapid, stuttering ramble that his family said developed in the last few years, told how he ended up behind bars.
A career soldier who wanted to reach the rank of sergeant major like his stepfather, Sasse was assigned to an infantry battalion in 2001 and got married in 2003. He deployed to Afghanistan in 2004 for an uneventful tour then came back to a baby son who he soon learned was autistic.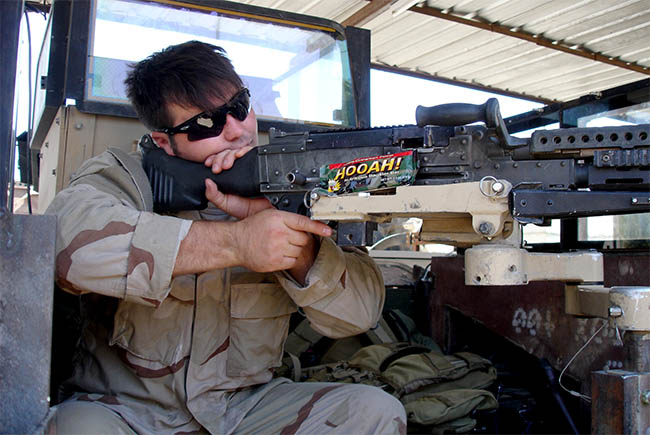 Sgt. Paul Sasse sits in the rear gun turret of the Humvee in 2006 in Iraq where he was later almost killed.
Courtesy Jason Inman
In 2006, he joined the 1st Special Forces Group, stationed at Joint Base Lewis-McChord in Washington, and deployed with the group to Iraq in 2007.
It was the most dangerous time in Iraq, and the group patrolled one of the most dangerous areas, a bomb-infested warren of Sunni villages and farms south of Baghdad that troops fittingly called the Triangle of Death.
"It was bad," Sasse said. "We were pretty much driving around waiting to get blown up."
Sasse was the rear gunner crouched in the trunk of a modified Humvee that belonged to the group's sergeant major.
The sergeant major, who rode in the back passenger seat, was a seasoned veteran whom soldiers say the unit looked up to as a mentor and great leader.
"The fact that the sergeant major rode around with us on every mission just showed you what kind of man he was," said Inman, driver of the Humvee.
In the festering Iraqi insurgency, where anyone could be the enemy, Sasse struggled to protect his sergeant major. At one point, he gunned down a civilian car that got too close, soldiers said, and it stuck with him, he said — not just because he had killed a civilian but because, given the vicious uncertainty of the Triangle of Death, he would do it again if he had to.
When it came to hidden bombs, though, there was nothing a soldier with a machine gun could do.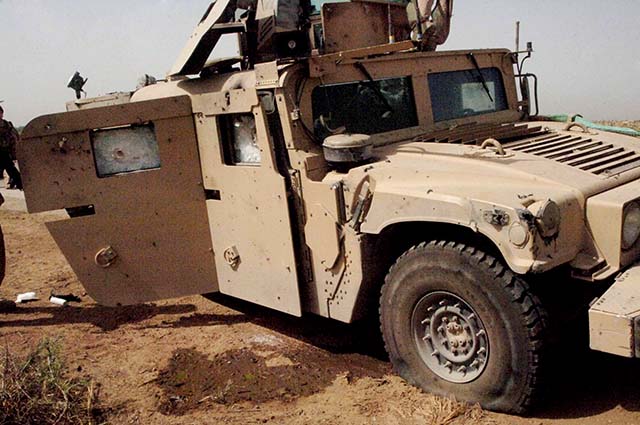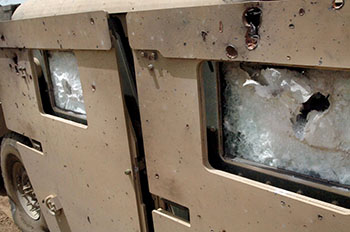 A near-surgical EFP strike on Sgt. Paul Sasse's Humvee in Iraq in 2007 pierced both passenger windows, injuring everyone in the truck and killing the group's sergeant major.
Courtesy Jason Inman
On May 9, 2007, the team was driving down a road when it was hit. Four well-aimed armor-piercing roadside bombs, known as explosively formed penetrators, or EFPs, slammed into the truck. Black smoke swallowed the road. One EFP hit the engine. Two hit dead-center in the passenger-side windows. And one hit the rear, right next to Sasse.
The blast hurled Sasse against the side of the Humvee, cracking his helmet and knocking him out.
When he came to a minute later, everything was covered in the dust of the Humvee's 2-inch-thick blast-proof glass, which the EFPs had turned into fine white powder.
"It was so white I thought I was dead," he remembered. "Then I started feeling sick and threw up. That let me know I was alive."
Sasse crawled forward through the dust into the back seat to check the damage. Inman, the driver, was bleeding from his shoulder. Shrapnel had shredded the gunner's leg. Sasse turned to the sergeant major. He gasped. The blast had ripped off most of his throat and face.
Sasse fumbled for his medical kit and pushed a bandage into the commander's spurting neck to stop the bleeding. He used another to cinch together his skull.
"We knew sergeant major was gone," said Inman, recalling the scene. "But Paul kept working on him. He worked on him until the medics pulled him off."
When the team put the sergeant major's body in a bag, Sasse helped dress the wounds of the gunner and took over the gun turret.
A helicopter took the gunner, Inman and the body of the sergeant major away, but Sasse stayed with the convoy, driving several more hours to resupply other teams, soldiers said. At the time, TBI and PTSD were not as well understood, and there was an expectation for troops to "suck it up," soldiers said. Sasse did.
"He was never the same, though," said his mother, who talked to him regularly by phone while he was in Iraq. "He didn't seem to understand where he was or what was going on."
His unit gave him two weeks of recovery time away from combat before he returned to doing missions. Sasse had panic attacks and fainting spells, soldiers said, but he stayed in Iraq.
"We lost a lot of people and could not really spare anyone," he said in jail. "I couldn't really go home just because I was a little hurt."
'Wire him up'
When the Special Forces group returned home in November 2007, Sasse's family could tell something was off. He avoided people. He had lost his sense of humor.
"He had horrible short-term memory and no memory of large parts of his past," his wife at the time told the court in March. He couldn't recall their wedding. He stuttered and had problems fastening buttons, she said. And the man who had always been kind and calm was suddenly angry all the time.
They divorced.
"Since I couldn't remember much of the marriage, it really didn't affect me," Sasse said.
He was transferred to a unit at Aberdeen Proving Grounds in Maryland.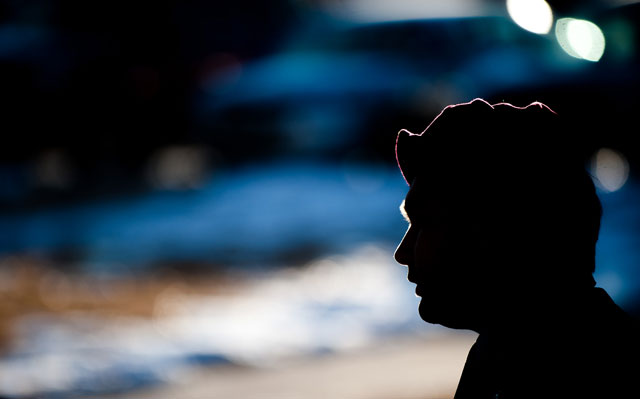 Sgt. Paul Sasse heads into court at Fort Carson. After waiting hours, his arraignment was rescheduled.
Michael Ciaglo / The Gazette
In November 2008, medical records show, Sasse went for help. A brain injury doctor at Walter Reed Army Medical Center wrote that Sasse had "difficulties with learning and attention" and spent much of the evaluation time "staring into space," but the doctor said she believed that Sasse's problems "stemmed from psychological sources" rather than a brain injury and recommended psychotherapy.
At a psychiatric evaluation two months later, medical records show, Sasse had many of the symptoms of PTSD: nightmares and flashbacks, panic attacks, guilt, loss of interest in life, depression, anxiety. But the Army psychiatrist diagnosed him with attention-deficit disorder and sleep disorder. She prescribed him uppers for the day and downers at night.
"Wire him up then make him crash," said Inman, who retired from the Army after having his hand blown off in Iraq. "They didn't want to hear the real problem, and he did not want to disclose it because it would be a career ender. They both tried to hide it until it got to the point where they couldn't anymore."
In Maryland, Sasse fell in love with a fellow soldier, and they married in 2009. They have two daughters.
Sasse was still struggling with memory and concentration as well as symptoms of PTSD. He would wake up screaming and sometimes was consumed by rage. His second wife said in court testimony that he started hitting and choking her.
In July 2010, Sasse transferred to the 10th Special Forces Group at Fort Carson. Two months later, a doctor cleared him for deployment, saying his brain injury caused headaches and memory problems but the soldier "can still do his job well," records show.
In November 2010, the group deployed to Iraq.
"I thought I could handle it, but everything got worse," said Sasse, recalling the deployment. "My nightmares got worse; my sleep pattern got even worser; my PTSD, my TBI — all worse."
Hiding symptoms
A 2010 study published in the American Journal for Public Health shows troops are nearly twice as likely to have PTSD after a second deployment and nearly three times as likely after a third. Several recent studies also show traumatic brain injuries have a "cascade effect" where initial damage can cause further deterioration of brain cells for years. Increasingly, science is revealing that when it comes to combat, what doesn't kill you doesn't make you stronger; it makes you more likely to break.
When Sasse's unit returned to Fort Carson in May 2011, he was unraveling. He lost weight. He couldn't sleep. When he would jump out of planes during training, he found himself hoping his parachute wouldn't open.
He began fighting even more with his wife. During one argument in summer 2011, he repeatedly banged her head against the center console of their car, court documents show, but the beatings went unreported.
In November 2011, after another fight, she left the state with their daughters and told her husband she wanted a divorce.
That week, the head doctor of the 10th Special Forces Group noticed something was off about Sasse and sent him to the group's psychologist, Craig Jenkins.
There are no definitive tests for TBI or PTSD. Medical providers have to make a diagnosis based on past events and current symptoms, which can be difficult to accurately document. Soldiers widely believe a PTSD diagnosis will end their career and said it is easy to deny symptoms and fool the tests. On the flip side, several media reports have suggested, Army doctors are cautioned not to overdiagnose PTSD, which can be a drain on Army resources. In addition, there is a widespread belief that soldiers fake PTSD to get out of work and maximize benefits.
With all these factors in play, Sasse tried to downplay his symptoms.
"If I told them, I might lose my kids and my job," he said later. "If I didn't, my problems would get worse. It's a lose-lose situation."
The Special Forces psychologist noted in medical records that Sasse complained of headaches, increased anxiousness and "difficulties remaining on topic" but did not mention concerns of PTSD or TBI.
An Army doctor refilled Sasse's ADD and sleep medication prescriptions and sent him back to work.
Sasse continued to deteriorate throughout winter and spring until he could no longer do his job.
"He would call me almost every day during that time; I could hear him on the phone falling apart," his mother said. "Why wasn't my son treated?"
His commanders repeatedly sent him to the doctor, concerned something was wrong, records show.
In March 2012, his first sergeant, Lawrence Gamble, wrote to the unit psychologist, telling him to assess Sasse, saying, "Sasse is not the same person I knew before (the 2007) deployment, and he needs more help than he is probably letting on."
The psychologist diagnosed Sasse with anxiety disorder, gave him the anti-anxiety drug Propranolol and said there was no reason Sasse could not deploy once he was feeling better, records show.
In May 2012, Sasse's commander sent Sasse back to the psychologist saying Sasse had "noticeable memory problems; Never seems present in the room even though you're interacting with him; Seems to have lost the concept or concern of the impact of his actions," records show.
The psychologist, noting Sasse was "very distressed" and "in tears at times," diagnosed the soldier with the chronic PTSD soldiers said he had been showing symptoms of for five years. He recommended intensive treatment.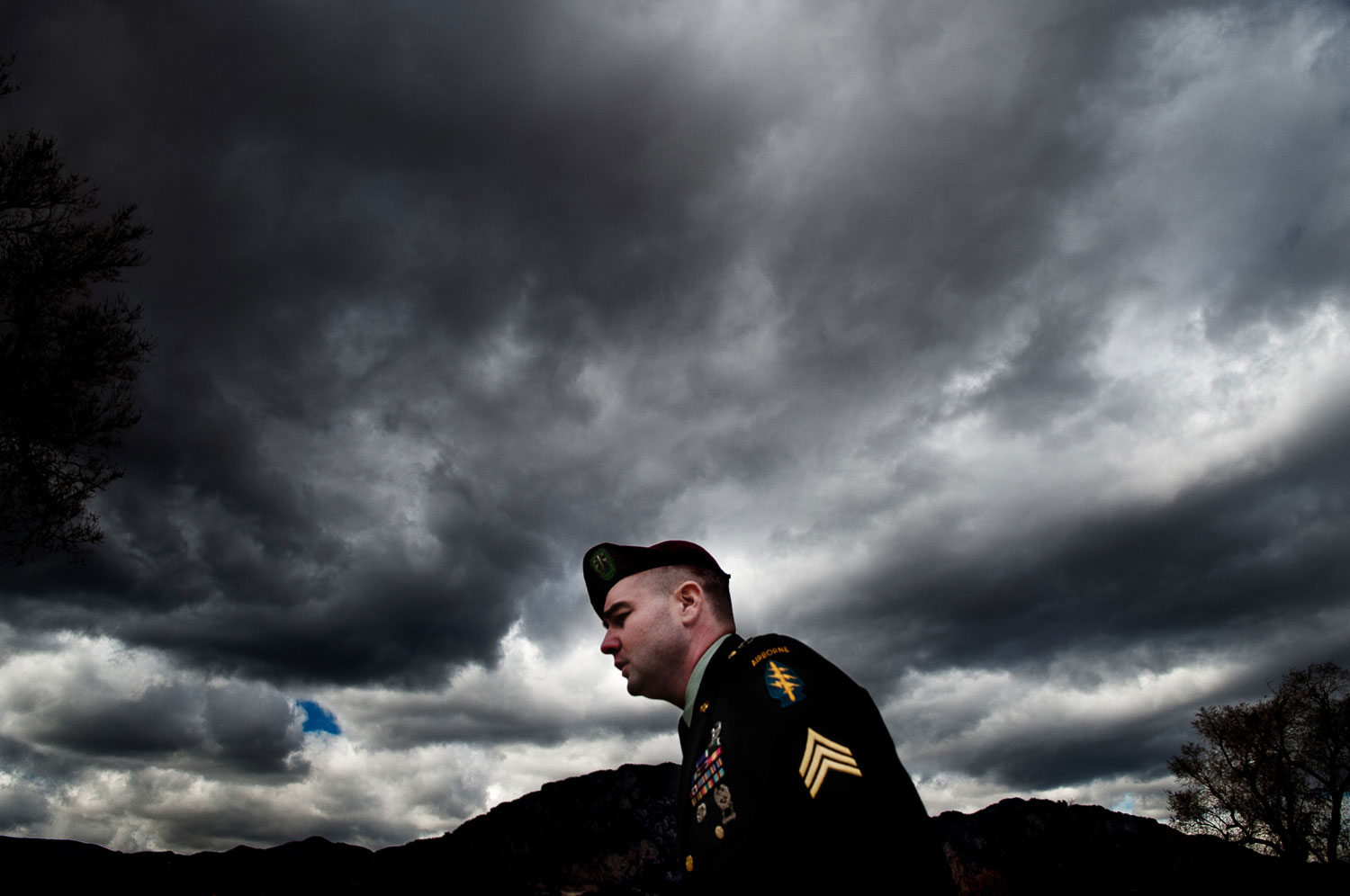 Above: Sgt. Paul Sasse prepares to enter a guilty plea March 21 at Fort Carson for a crime the Special Forces soldier says he doesn't remember committing.
Michael Ciaglo / The Gazette
Mixed medications
In early June, Sasse's wife learned he was getting treatment and agreed to come back. The Special Forces group moved Sasse to a less demanding job and recommended he be transferred to a special unit for wounded soldiers called the Warrior Transition Unit.
Things seemed to be going better, but Sasse said he felt increasingly on edge.
He thinks it was the drugs.
When he was diagnosed with PTSD, he was prescribed the anti-depressant drug Paxil and the anti-anxiety drug Trazadone, on top of the anti-anxiety, ADD and sleep medicines he was already taking.
Food and Drug Administration guidelines say Paxil should not be mixed with Trazadone or Sasse's ADD drug, Adderall, because the interaction can cause a variety of side effects including confusion and hallucination.
Sasse seemed to grow worse, medical records show.
At an intake exam June 13, a therapist said Sasse was anxious and angry, "rubbing the back of his neck throughout the interview and eye contact was minimal."
On June 19, another psychologist noted the soldier had "anxiety with persistent worry, with difficulty breathing at times due to panic."
On June 20, Sasse started daily treatment, which included group therapy and classes that taught "relaxation through meditative practice," records show. But, he said, the meditation triggered flashbacks that made him feel worse.
On June 21, he told his psychologist the therapy was "a waste of time." Records show the Army then doubled his dose of the contraindicated drugs.
"I went every day to this guy asking for help, and they just kept giving me more and more pills," Sasse said. "It got to the point where I was on so many pills that it was insane."
On June 22, Sasse complained of "rapid speech, racing thoughts" and said he wanted to stop taking his medications, records show.
On July 2, Sasse told the Special Forces psychologist he was increasingly on edge.
The next day he snapped.
New charges in jail
On July 3, Sasse's wife was leaving their Fort Carson house on a routine errand and took the keys to the family Jeep. Sasse followed her out, telling her to take their other car instead.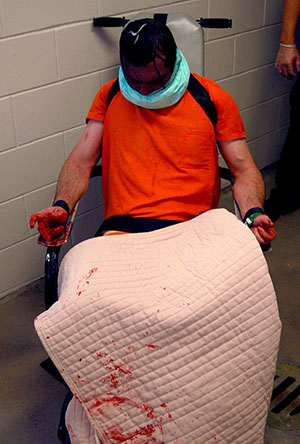 Sgt. Paul Sasse is restrained and muzzled after being forcibly removed from his cell by El Paso County sheriff's deputies July 27. Sasse was charged with three counts of assault in connection with resisting deputies and faces 15 to 48 years in prison if convicted.
Courtesy Haytham Faraj
They argued. Sasse grabbed her hand and twisted it to get the keys then pulled her out of the car, court documents show.
"I was like, chill out," she said in court testimony. "It wasn't something to get mad over. I was shocked, stunned."
Sasse slammed her head against the Jeep, started choking her then dragged her to the house in a chokehold, punching her repeatedly in the face.
"What are you doing?" she said she yelled.
"Shut up, stop screaming," he yelled back. Enraged, Sasse told her to go upstairs and wash off the blood.
"If you tell anyone, I will break your face," he told her, court testimony shows.
His wife did not respond to requests for an interview.
Military police soon showed up. Sasse punched and kicked the officers, arrest documents show. They shocked him with stun guns.
Sasse said he remembers nothing of the day.
His wife has filed for divorce. "He's not the same," she told a military court. "He's stuck in his past."
Fort Carson police put Sasse in the El Paso County jail, where he said he was taken off all his medications. FDA guidelines warn to avoid this.
He became delusional, convinced, he said, that his own government had locked him in an Iraqi prison.
On July 27, Sasse refused to leave his cell. Guards filled the small room with pepper spray through a slot in the door, then nine guards surged in and dragged him out bleeding and unconscious, jail surveillance video shows. In the struggle, officers say Sasse hit three guards. He is charged with three counts of assault. If convicted, he will spend 15 to 48 years in prison.
For the next two months, he sat in a 6-by-12-foot cell. He was allowed out once a day to shower and use the phone. He had no access to books or other personal items, so, he said, he spent the time staring out a 2-foot-by-3-inch slit near the ceiling.
"This treatment of a battle-wounded, mentally ill combat veteran shocks the conscience," his Army lawyer, Maj. Tom Oakley, wrote in September in a request to Fort Carson's commander to drop charges and put Sasse in a psychiatric hospital.
The commander, Maj. Gen. Joseph Anderson, refused.
Oakley declined to be interviewed.
Anderson left Fort Carson in March and is slated to become commander of Fort Bragg later this year.
Offered quick discharge
In September, an Army judge ruled that Sasse was mentally incompetent to stand trial and ordered him to be sedated and flown to an Army psychiatric hospital at Camp Butner in North Carolina.
"I thought maybe this will be good. At least I could tell the judge I was getting treatment," Sasse said. "Instead, I was just locked in another little room again."
His former commander, Nilson, came to visit him in North Carolina.
"He seemed frazzled, neurotic, sad, depressed, very paranoid," Nilson said.
Nilson wrote a letter to Anderson, asking the general to drop the charges and get the soldier help. Nilson said he never received a response.
The hospital adjusted Sasse's medications, and after two months, doctors said the soldier was competent enough to stand trial. In November, they sent him back to the El Paso County jail so the Army could prosecute him. He went back to solitary confinement and waited there without military charge, growing more paranoid that the Army was out to get him.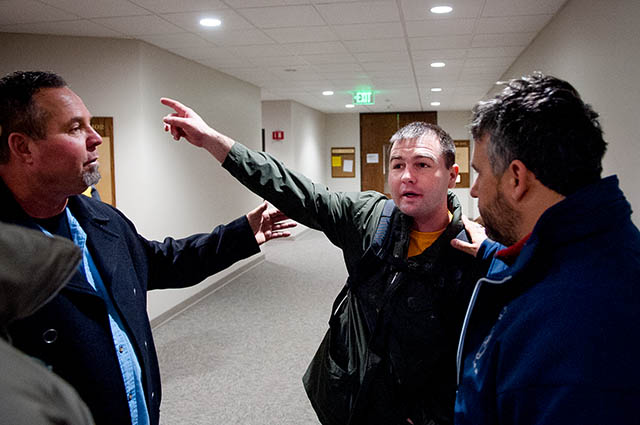 Sgt. Paul Sasse argues with civilian veterans advocates Robert Alvarez, left, and Georg-Andreas Pogány, right, after Sasse's Army escort said the reason he was placed in the wrong treatment program was because of his mother. Sasse took some medication and then became upset again saying he needed to call his mom.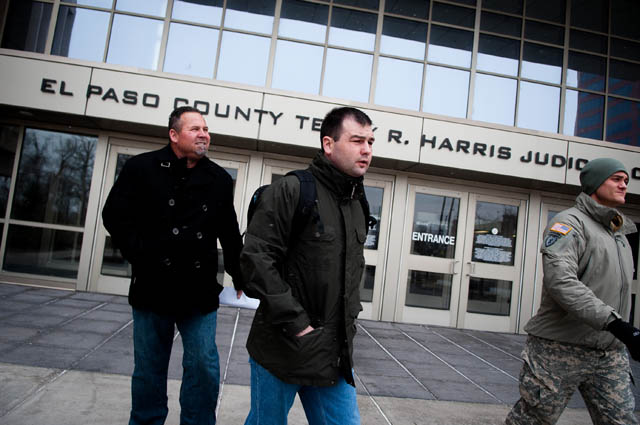 Sgt. Paul Sasse, center, appeared in El Paso County Court on April 9, where he was granted approval to leave the county for a treatment program.
Michael Ciaglo / The Gazette
"I gave everything, and then as soon as my PTSD started getting really bad, they just gave up on me," he said in January. "It's quicker and easier just to kick guys out and then have the jails get filled up with them."
In 2012, Fort Carson, which does not have its own jail, held 155 soldiers at the El Paso County jail, the highest number ever. So many combat veterans are in the jail that the county created what it calls a "veterans ward" with special services including counseling for PTSD.
While Sasse languished in jail, his driver from Iraq, Inman, who now lives in California, tried to help him. He called Pogány, the local veterans advocate. Pogány had served in the same Special Forces group and knew the sergeant major who died in Sasse's arms. He went to the jail right away.
Sasse was delusional, Pogány said. "He didn't even know where he was. He was scary."
More disturbing, he said, was the Army's response. Sasse's commander was encouraging the soldier to resign in lieu of court-martial through a Chapter 10.
Doing that, Pogány warned Sasse, would strip the soldier of benefits for life.
"It sounds like a good deal because these guys want to get out of jail," Pogány said. "But it can be disastrous."
Army data show that at Fort Carson since 2011, 87 percent of the 218 soldiers discharged through Chapter 10 received other-than-honorable discharges. Veterans can appeal their discharge to the VA to try to get benefits, but the process is long, confusing and, lawyers say, the vast majority are denied.
Dangerous deals
There is no easy way to know how many of the hundreds Fort Carson discharged through Chapter 10 were wounded, how many were potentially violent and how many, like Sasse, were both. But interviews by The Gazette show that even when soldiers were clearly both, Fort Carson still used Chapter 10.
Spc. Jerry Melton, deployed to Iraq in 2008, said you could "set a watch" to the mortars that hit his base. There he started having flashbacks and nightmares and became suicidal. The Army put him on the anti-depressant Paxil, records show.
In 2011, he deployed to Afghanistan, where symptoms worsened and he began to develop violent urges. Late that year, while still in the war zone, he went to a psychologist, saying, "Before I do anything to get in trouble, I thought I would come here to talk," records show.
Melton was sent back to duty. His symptoms grew more intense. In February 2012, a doctor in Afghanistan put him on the anti-psychotic drug Seroquel. A week later, Melton got in an argument with tentmates and pointed a loaded machine gun at them, records show.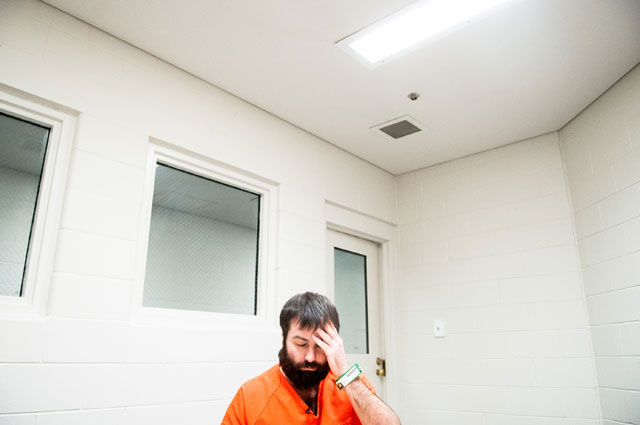 Sgt. Paul Sasse lets a headache pass Jan. 23 in the El Paso County jail. The wounded Army soldier was hit by a roadside bomb in 2007 in Iraq and diagnosed with traumatic brain injury and post-traumatic stress disorder. In jail he struggled with no treatment.
Michael Ciaglo / The Gazette
Melton was evacuated from Afghanistan, diagnosed with severe bipolar disorder and sent to intensive therapy at Fort Carson. He had homicidal urges, records show, and was put in a locked civilian psychiatric hospital. In early September, records show, his unit, the 1st Battalion, 67th Armor Regiment, pulled him out of the hospital against his will and took him to the El Paso County jail to await court-martial on the gun charge.
He said he was told he was too much of a danger to be anywhere but the jail.
"I'm going crazy, they are always screwing up my meds and I can't get no counseling, but they say I'm a threat," Melton said in an interview in October in jail.
Two days later, the Army offered Melton a Chapter 10, and he left with no medication or oversight.
He was last known to be living in South Carolina.
He did not return calls.
"I don't think they should be putting people out without the medicine that they need; it's dangerous," said Sasse, who was in jail with Melton. "What they're doing is endangering the public."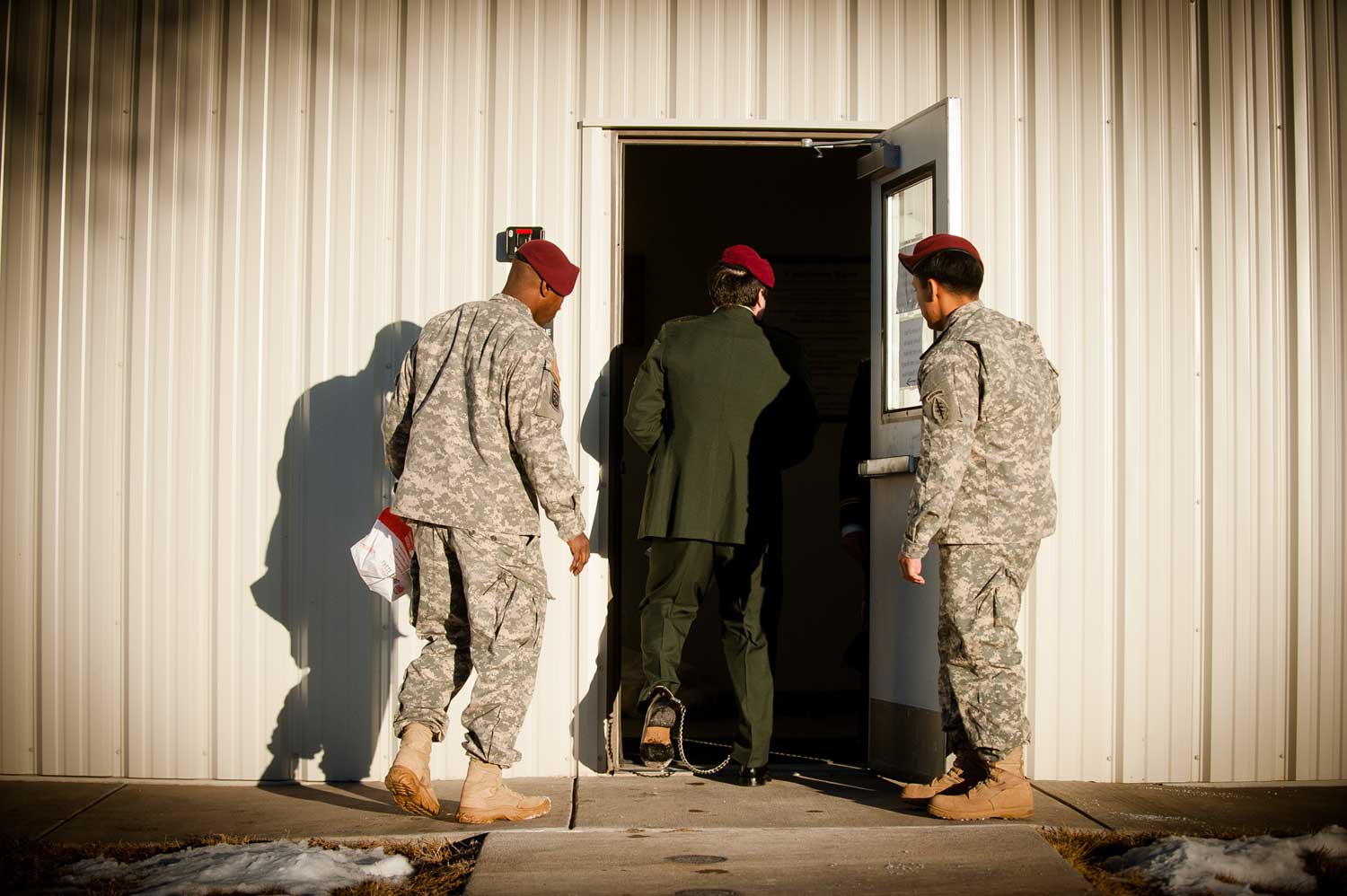 Above: Sgt. Paul Sasse, in shackles, enters a Fort Carson courtroom. On March 21, Sasse pleaded guilty to assaulting his wife and military police, saying, "I'm ashamed of myself."
Michael Ciaglo / The Gazette
Rehabilitate or punish
Numerous civilian and military studies have shown that troops returning from combat are more likely to get in trouble. A 2010 study published in the online journal BMC Psychiatry showed that deployed Marines diagnosed with PTSD were 11 times more likely to be discharged for misconduct as nondeployed Marines.
The growing realization that combat can push people to break the law has spurred cities across the country to create veterans courts that offer suspended sentences if veterans complete therapy and substance abuse counseling that can help them recover. There are now more than 90 such courts, including one in El Paso County.
The Army has not embraced the same rehabilitative ethic even though many of the problems arise during active duty, said Maj. Evan Seamone, a longtime Army lawyer and vocal critic of the current system, which he says is too focused on punishment.
"These soldiers are denied the very type of care that they need to complete the readjustment process," he said in February at a conference on PTSD in Florida.
Strict punishment, including barring troops from VA benefits, sparks long-term problems, he said. "My biggest fear is we are creating a class of individuals who need help but can't get it and will be stuck in a revolving door of criminal conduct. By preventing these guys from getting treatment, we are actually harming the society we are sworn to protect."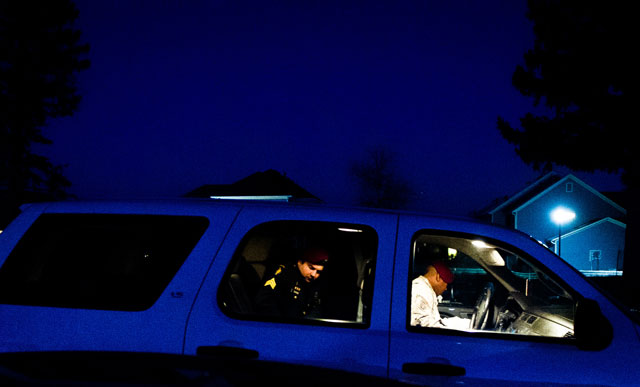 Soldiers from the 10th Special Forces group take Sgt. Paul Sasse back to the El Paso County jail after a Feb. 12 hearing at Fort Carson.
Michael Ciaglo / The Gazette
The Army has not always been this way. In a 2012 Military Law Review article titled "Reclaiming the Rehabilitative Ethic in Military Justice," Seamone noted that during World War II and Vietnam, the military recognized the effects of combat and created special programs to rehabilitate soldiers accused of crimes. Seamone called for the Army to revive military justice programs to steer injured soldiers to treatment. So far, he said, there has been little progress.
Discharging injured soldiers without benefits makes them more likely to commit crimes, creating what he called a "sleeper cell" that endangers the public.
"I cannot tell how large the sleeper cell is," he told the Florida audience. "But I can reasonably assure you that its size is significant."
'Prejudicial to good order'
Sitting in jail this winter, Sasse obsessed about killing himself to bring attention to his plight. His mother worried that he would explode if discharged with no treatment.
She urged him to take his chances with a trial.
Pogány and fellow advocate Robert Alvarez visited the jail and talked with Sasse about the pitfalls of a Chapter 10.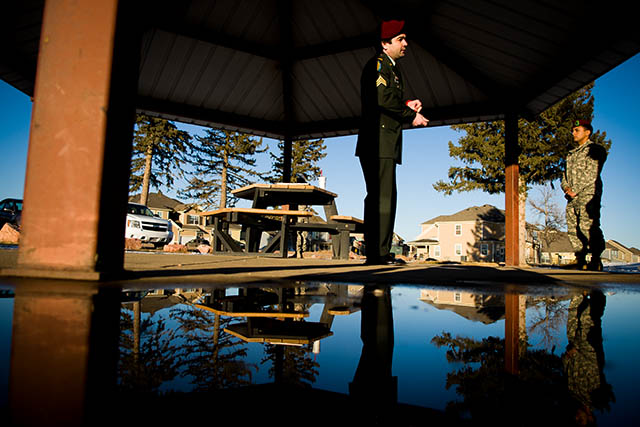 Sgt. Paul Sasse waits outside a Fort Carson courtroom to be arraigned for assault charges Feb. 12. He was eventually released and put in a psychiatric hospital.
Michael Ciaglo / The Gazette
In January, sensing he needed stronger legal representation, they connected him with a private military defense attorney with an impressive string of victories, Haytham Faraj.
"The Army didn't know what to do with Sasse," said Faraj, whose office is in Chicago. "They could not prosecute him because he had been deemed incompetent, but they couldn't release him. So he was just sitting there."
Faraj told the Army they were violating the soldier's Constitutional rights. They should charge Sasse or show up in federal court.
In February, the Army charged Sasse with assault, conveying threats and conduct prejudicial to good order and discipline.
Faraj asked for the soonest possible trial date then gave Fort Carson an ultimatum.
"I said to the commanding general, 'Look at the facts. You are going to lose at trial and be stuck having to do the right thing for this soldier anyway. So why not save a lot of time and money and do the right thing now.'"
At the same time in February, the Army became aware that The Gazette was following Sasse's case.
Within a few weeks, Sasse was offered a deal that his mother calls, "The best possible outcome now."
Sasse would plead guilty but receive no additional punishment. He would keep his rank and pay and get no prison time. Instead, the Army promised to send him to in-patient psychiatric treatment, then transfer him to Fort Carson's Warrior Transition Unit to be evaluated for a medical retirement.
"It's what they should have offered him long ago," his mother said.
Sasse has since been pulled out of his psychiatric hospital by the Army against his wishes. For weeks he has been at Fort Carson with little supervision.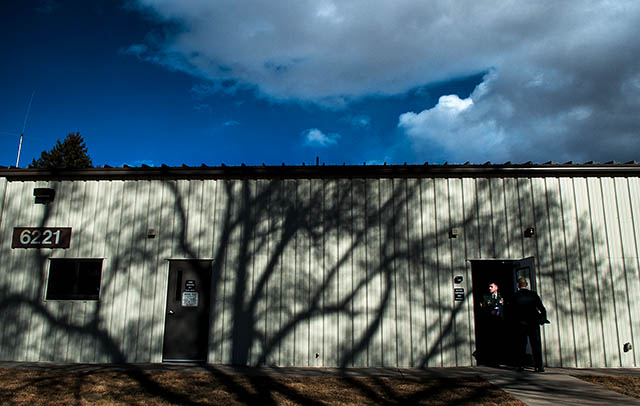 Sgt. Paul Sasse walks out of a Fort Carson courthouse March 24 after pleading guilty and accepting a plea deal for beating his wife and attacking two military police officers July 3, 2012. Sasse had served 261 days in the El Paso County jail.
Michael Ciaglo / The Gazette
"He's a time bomb," his mother said. "He is not getting the treatment promised, and if he gets in trouble again, the Army will make it look like it was his fault."
Sasse is still facing civilian charges for assaulting jail guards.
To get out of jail, Sasse had to admit to his crimes and plead guilty. On March 21, he appeared in a Fort Carson military court. He sat at the defense table in his dress uniform as Special Forces soldiers sat listening in the back of the courtroom.
The black-robed judge peered down through glasses low on his nose and asked in a low tone when Sasse had joined the Army.
Sasse's eyes furrowed with confusion.
"It was either '99 or 2001," he said. "I'm sorry; I have a head injury, your honor."
The judge read the charges one by one.
First, Sasse had to explain the assault of his wife in the driveway.
Sasse struggled.
"I don't remember what happened, but I really believe what happened, happened. I'm so sorry," Sasse told the judge.
Then Sasse had to explain the assault on the military police. Again, Sasse said he could not recall but said he believed the officers' reports. "Why would they lie?" he said.
Then the threats. He couldn't remember saying he would break his wife's face but said based on the evidence he was sure he did.
"I'm ashamed of myself, your honor," he said.
Finally, he had to explain conduct prejudicial to good order and discipline, a crime unique to the military, defined as any behavior that could bring discredit upon the armed forces.
He said he was guilty.
"How were you prejudicial to good order and discipline?" the judge asked.
"The whole thing, the whole scene out in the street, all of it, all of it," Sasse said.
"Do you think you damaged the reputation of the Army in the eyes of civilians?" the judge asked.
"Yes, sir," Sasse said.
"How so?" the judge asked.
Sasse paused, trying to fashion words in his addled mind.
"If the public saw that whole scene, your honor, they would think the Army isn't functioning properly."
Jail surveillance video of Sgt. Paul Sasse being removed from his cell.
http://www.youtube.com/watch?feature=player_embedded&v=wSVpM7yow70
Courtesy Haytham Faraj
Jail interview:
http://www.youtube.com/watch?feature=player_embedded&v=ED2nka9NZBU
Michael Ciaglo / The Gazette