Next Skywalk: Saturday, May 13, 2017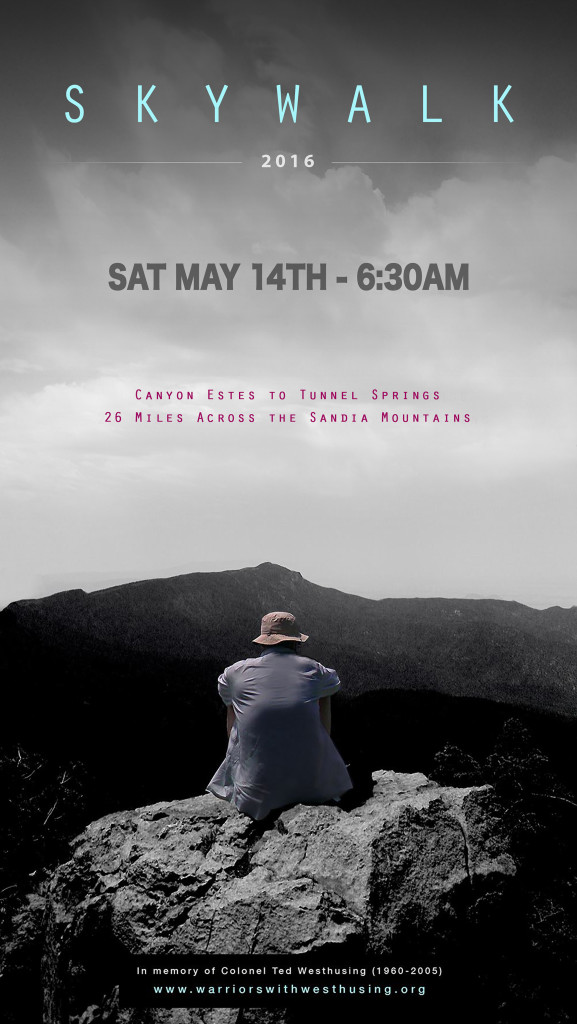 If you wish to be added to the Skywalk roll call, send you email to alimkin at hotmail dot com

Skywalk is a challenging march along the length of the Sandia Mountains of New Mexico near Albuquerque. Elevation ranges from 6,700 feet at the Canyon Estates trailhead in Tijeras, where the march commences, to over 10,000 feet at the crest. The march concludes at the Tunnel Springs trailhead of Placitas at around 6,400 feet. The combined gain and loss of elevation is over 10,000 feet. Approximate distance is 26 miles.
Skywalk remembers the life and death of Colonel Ted Westhusing, an American infantry officer who died at a secretive training facility in Iraq on June 5, 2005. In commemorating the life and death of Colonel Westhusing, who wrestled with the abuse and corruption of war, we commemorate the many — for there are many "warriors with Westhusing."
The 5th Annual Skywalk will be held on Saturday, May 14, 2016. Participants are encouraged to depart the Canyon Estates trailhead in Tijeras no later than 0630 in order to make the most use of daylight.  Carry plenty of water to make it to the tram (13 miles) where you will have opportunities to replenish your water at either the tram station or the Crest House. Average time for completion of the hike is between 10-14 hours. Make shuttle arrangements if you are unable to be dropped off in Tijeras and must leave your vehicle. Keep in mind that temperatures at the crest can be as much as 30 degrees lower than at the trailhead when considering clothing.
Lodging: Two area hotels are offering discounted rates to Skywalk participants. Hotel Parq Central is a hotel located in downtown Albuquerque, 10-min from the airport, and the location for a Friday evening meet and greet (optional). Reduced rates start at $119 with $20 upgrades per room type. To book a room, call 505.242.0040 and mention you are with Skywalk. The point of contact for any questions is Noelle Wallace.
Additionally, a discounted lodging rate of $88 is being offered to Skywalk participants by Best Western Plus Inn on the Rio Grande. The point of contact for this rate is Anthony Valentin at 505.217.1630. Again, mention you are with Skywalk to receive the reduced rate.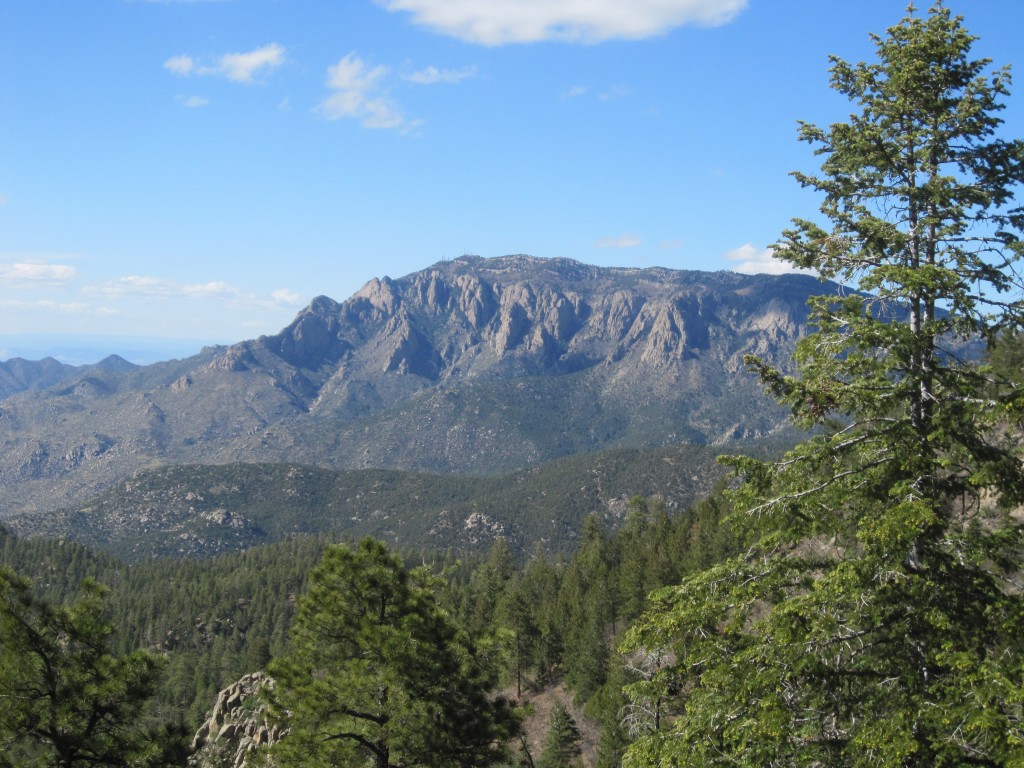 Further questions regarding Skywalk, or to reserve a spot (event limited to 75 participants) can be directed to alimkin@hotmail.com. Please put SKYWALK in the subject line.
In memoriam.
"Make no mistake. Operation Skywalk is not a pleasure stroll. It is a death march. If you don't feel like a piece of you has died somewhere among those rugged peaks – among the screaming ravens and frost bent trees – among the shards of stone and shadow – all morphing to silence beneath a flailing sun – keep on." ~ Captain Cong, April 29, 2012