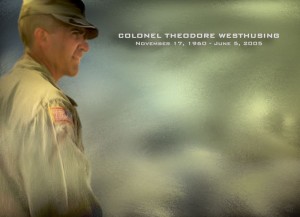 Breaking Hearts and Minds
Colonel Ted Westhusing ended his life at Camp Dublin, Iraq on June 5, 2005. He had been wrestling with issues of moral conscience for months. Colonel Westhusing was the highest ranking officer to die in Iraq. He was 44 years old. He was my commander.
Little is said about the debilitating condition of a shattered moral compass, which I see as the psychological consequences of participating in a dishonorable war. Only recently has the term "moral injury" even entered the discussion of battlefield-related distress. With his death, Westhusing defined the state of psychological distress that haunts all warriors who find themselves out of step with their leadership, their command, and their country.
I cannot support a msn [mission] that leads to corruption, human rights abuses and liars. I am sullied—no more.
I am a warrior with Westhusing; I believe there are others.